Introducing: Jingle Nog
At Fig & Dove, curating collections that include collectable-quality, artisan-crafted pieces that you and your family will cherish for a lifetime is a top priority. Jingle Nog – an adorable mother-daughter brand we discovered this year at market – offers beautifully handcrafted, European glass ornaments. Their story is an inspirational one, and their intricately designed ornaments make the perfect holiday keepsake.
About JingleNog
Jingle Nog was started in 2008 by Melissa Byrne and her daughter Katie. Their designs are unique, inspired by drawings, paintings, and stories. Each ornament is designed in New York and handcrafted in Italy and Poland. To make the experience even more special, the ornaments come packaged in a signature Jingle Nog box which includes a short story about how the piece was created.
The Holiday Helper Story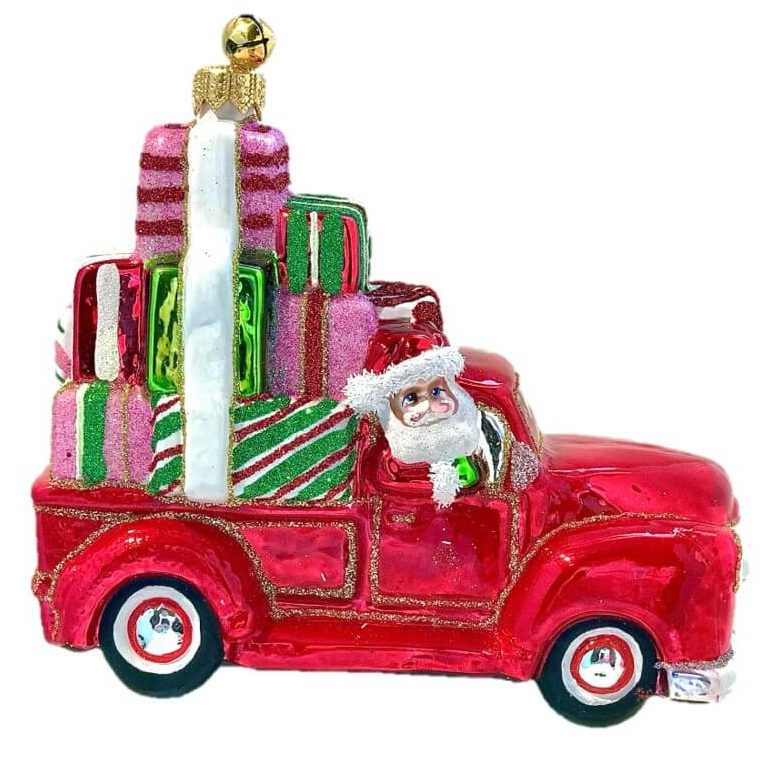 Every December when the snow up north starts blowing, hearts become light, warm and glowing, and the holiday spirit everywhere is growing. Soon you hope to see this bright red pickup truck, filled with Christmas cheer and lots of luck. This Holiday Helper may be seen, in sugarplum filled reveries, rolling past the freshly trimmed holiday greens, traveling over mountains and streams, or passing slowly by your twinkling trees, and in every imagined scene in between late on any Christmas Eve. The presents in Santa's truck are always overflowing, just as every young and old soul is hoping, another merry Christmas holiday is in the making.
The Nikolas Coralinus Story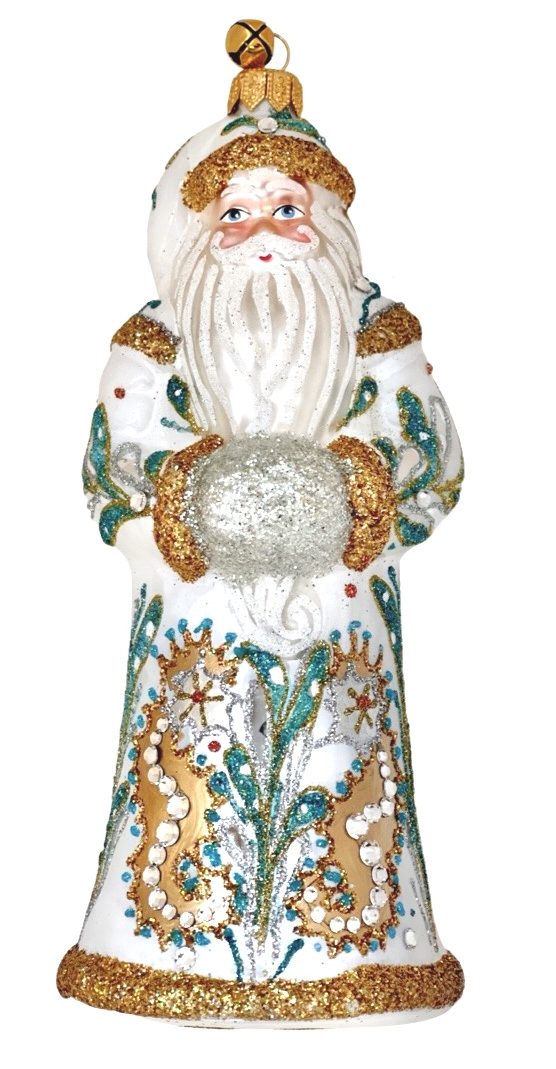 Like a pearl found in the depth of the mighty sea's brine, silent and sublime, Nikolas Coralinus sparkles and shines. Seashells softly clang and chime, dancing with the seaweed forever in time. Waves lap as the tides' clock eternally resets and rewinds, under a moon and stars that glow resplendent and aligned. These are all celestial signs, reflecting the omnipotent power of their tasks assigned.All are divine, part of God's world so amazing and fine. They, like all of nature seek to remind, we are all one, mere creatures God created and named humankind, all born with open hearts and minds, yours, ours and mine, so be thoughtful and kind.
The Papa Felicity Story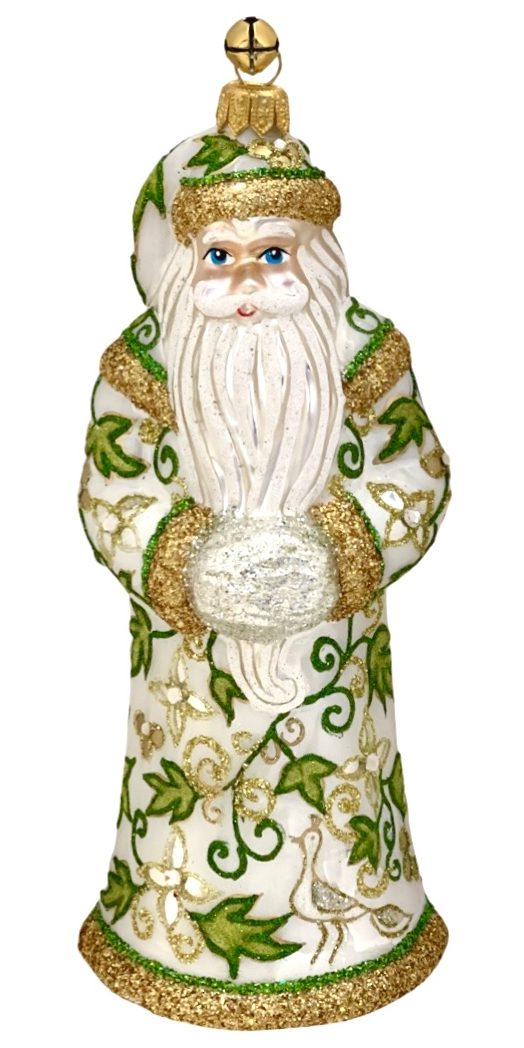 A divine happy embrace, is filled with light, warmth and grace. Papa Felicity, your benevolent nature creates, a weightless and welcoming place. Like your twin bliss who is ever moving, your stay is fleeting, so we await your next greeting, seeking the peace found in our meetings. then once again found, we wish to never move on. In the haloed glow your presence, we hope to always remain and belong.
The Roi Du Jardin Story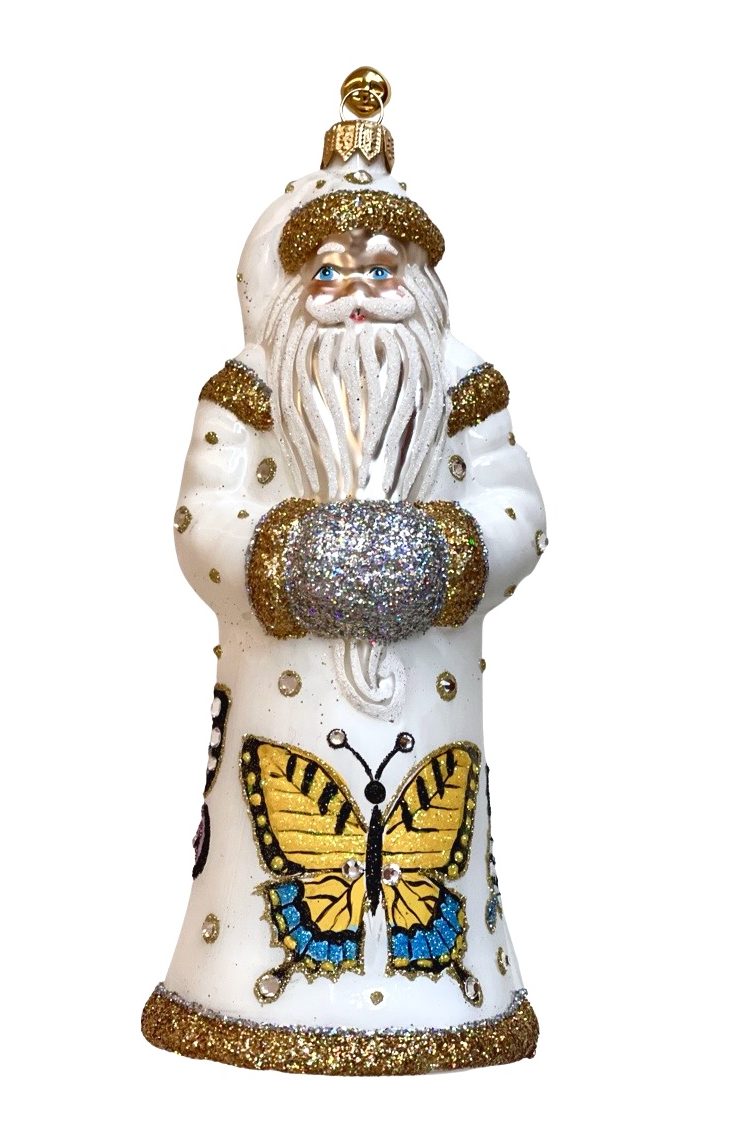 Our lepidopterist Roi du Jardin, is the keeper of our magical garden. Dressed in a butterfly-filled robe of satin, this gent needs no other trims or wrappings. Where he is verdant growth and abundant flowering happen. While entomology is his passion, he is devoted to weeding and watering, tending daily to pruning vines and stems that are wandering. Every day he tends to the flower beds and trims, surrounded by adoring fluttering wings, making beautiful  bouquets with the garden's fresh offerings. 
The Vanessa Story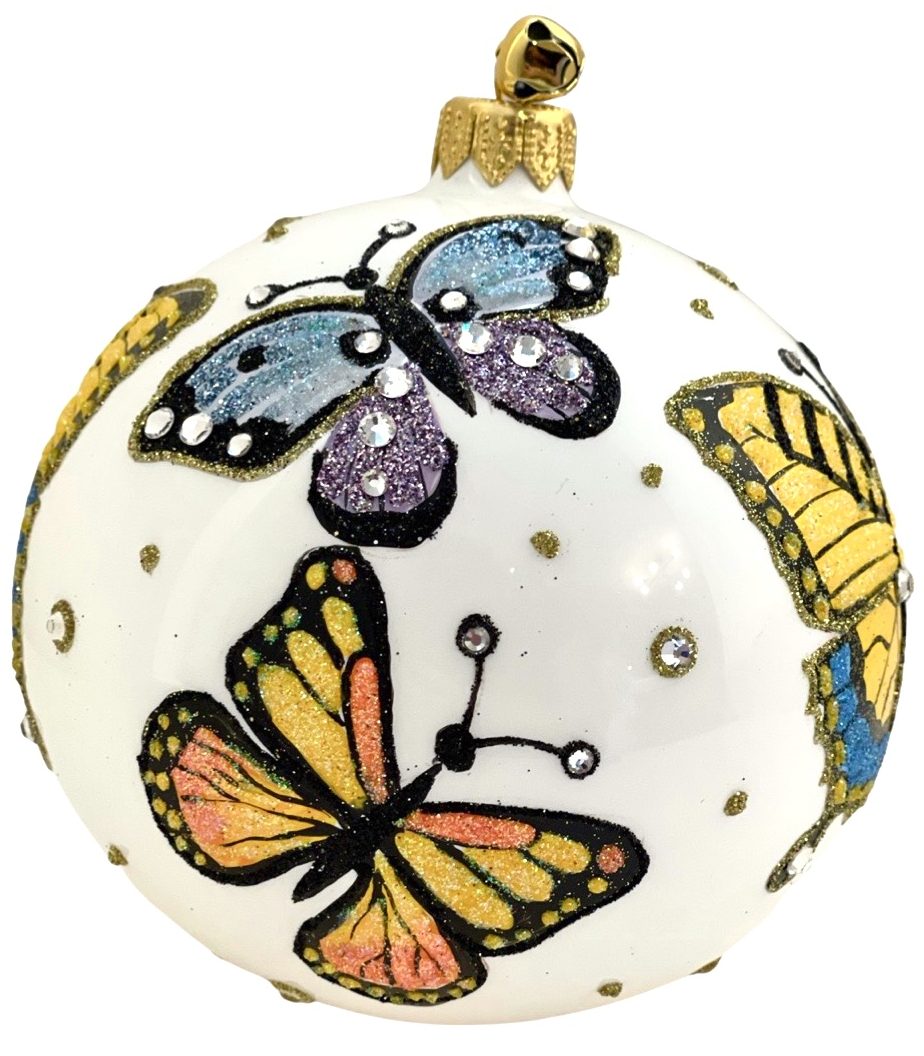 Follow them through the dotted path of daffodils and dandelions that are somehow flourishing in snowy fields. The landscape is covered with a deep blanket of powdery snowflakes. A light breeze touches your cheeks and lips. The gently swaying golden shafts of wheat and wildflowers stretch as far as the eye can see. The moon covers the horizon, haloing the brilliantly gilded fluttering wings of the many dancing butterflies.
A dream, perhaps, but Vanessa is for believers. It may be the sweetest reverie, your mind's eye will ever see, dancing with Vanessa and the dream weavers...
These will be your absolute favorite Christmas ornaments to adorn your tree, to give to that special person in your life, or hang on an Acrylic Ornament Stand. Shop the Jingle Nog Collection, today!